May 2018
| Mon | Tue | Wed | Thu | Fri | Sat | Sun |
| --- | --- | --- | --- | --- | --- | --- |
| | 1 | 2 | 3 | 4 | 5 | 6 |
| 7 | 8 | 9 | 10 | 11 | 12 | 13 |
| 14 | 15 | 16 | 17 | 18 | 19 | 20 |
| 21 | 22 | 23 | 24 | 25 | 26 | 27 |
| 28 | 29 | 30 | 31 | | | |
Calendar
Top posting users this week
Good day to western community. Today i begins tutotial cathegory with practical usage of IGE( Imperial Game Engine).
Imperial-script(c) have 2d schematic logic classes. Is three main types of script nodes: events, action methods or function bodies and variables.
Result: we need cteate simple chinemathics for big doors.
Implemention:  simple constructing is:
- make two empty event handlers, aka animations names,1) and comment first " open door" and 2) second "close door".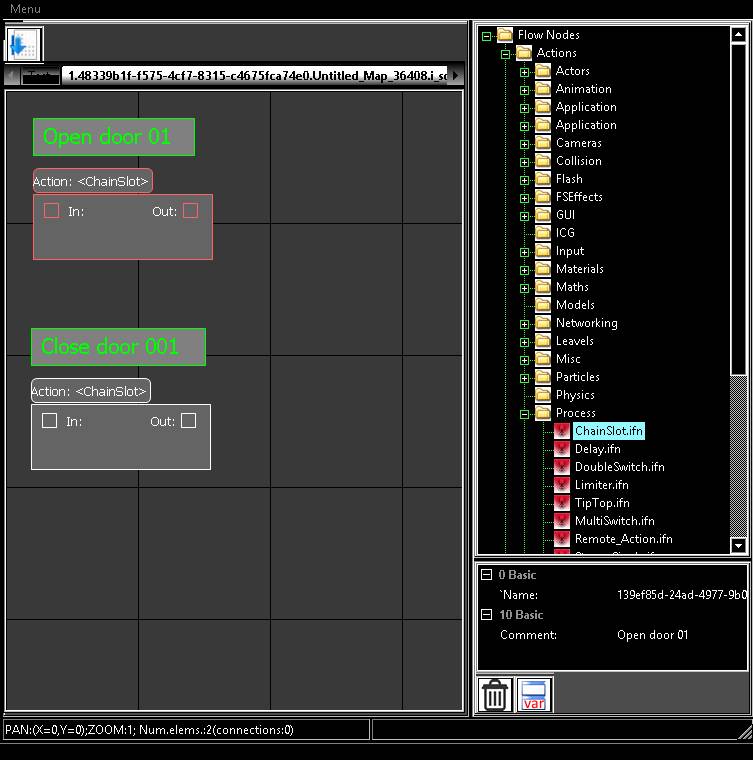 This is like function headers. We can use [action/proceses/chainslot.ifn] sctipt node for this.
- Next we make bodies of this funcs:  construct block of animation and construkt sound playing. Also can add enabling techlical lighting, add steam from ungermetization and all of you wand or need.r
- Doors in our example have doorframe and two door sides. In real this is three instances of models that hide all and shows only imodel part that uoy need. This imodel instances is added to our example iscene with closed state.
- For construct sinple chinematics we can use [actions/actors/translate_actor.ifn] script node. This node move imodel instances on current scene. All we need is on and after timer period (like 1000 miliseconds) OFF translation moving. Spid of translation can be selected or changed by variable. Continious process impulse available by [events/misc/OnFrame.ifn] flow node, that give variabled impulse every render window frame. The last script node need connect by cable with the translation actio function. Among this two nodes we need add [actions/procesess/doubleswich.ifn] script node. Sense animation of open door is on s
h for start tramslation of model of door side and afterr some time (1000 miliseconds by [actions/procesess/delay.ifn])  off swich for stopping of translation. Some sctipting need for reverse "close door" animation. Possible debug script values in game simulation mode only by compiling debugged script.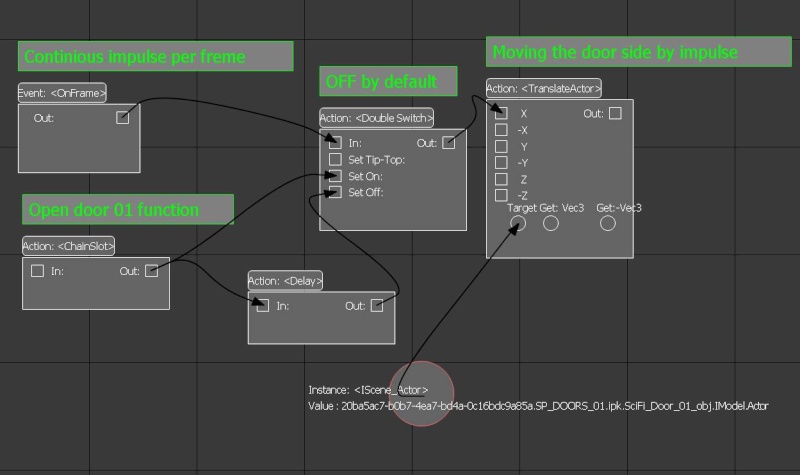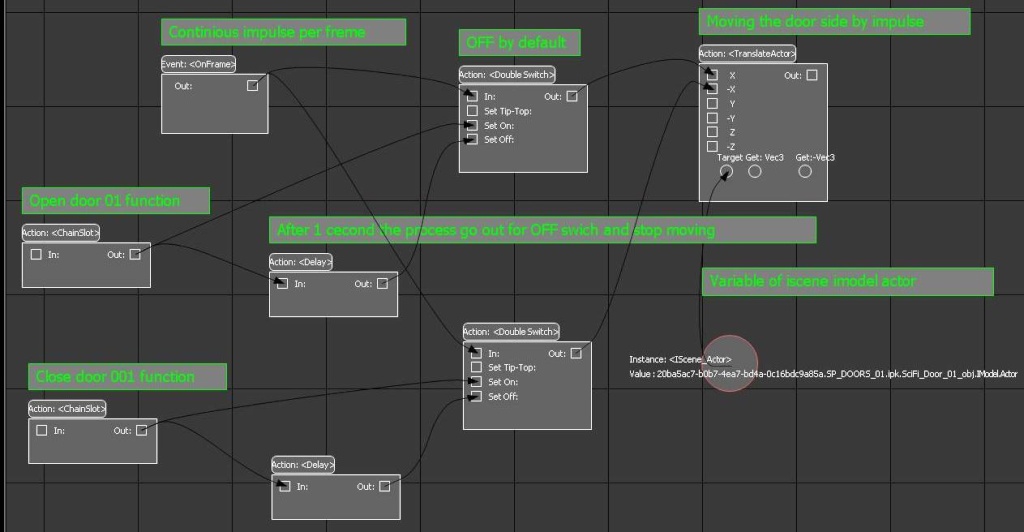 - For play 3d sound of opening door need use [actions/sound/play3dsound.ifn] script node. Player need connect with sound variable.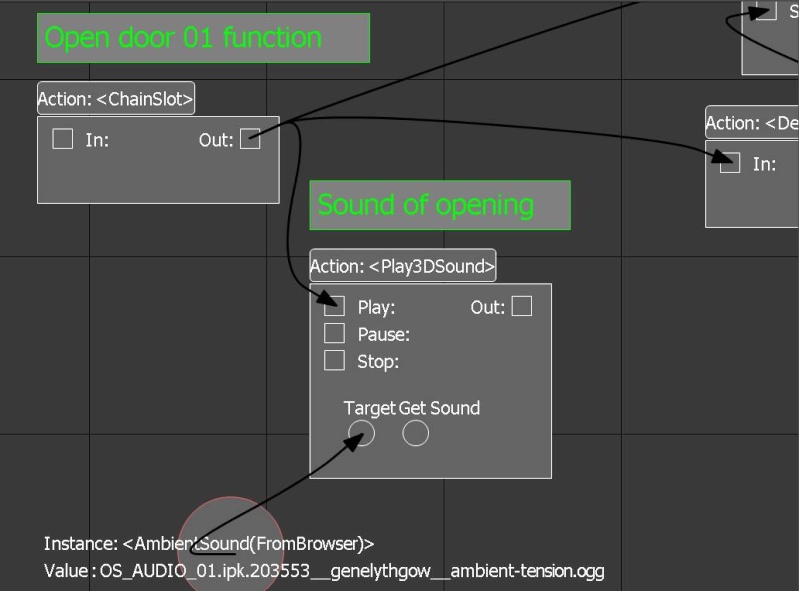 - For showing particles of steam need use particleplayer script function. In some way we controll light visiblity.
If created imperial script part of scene, we need at end save our scene.
-
Its all. After starting map in editor simulation we can use our functions. Avaialable connect the handlers with every process in your game project. [ by remote process action\event ]/ (like input buttons, trigger input or cursor clicking).
Admin




Сообщения

: 1031


Experiance Points

: 2415


Reputation

: 2


Дата регистрации

: 2009-08-30



Similar topics
---
Permissions in this forum:
You
cannot
reply to topics in this forum