May 2018
| Mon | Tue | Wed | Thu | Fri | Sat | Sun |
| --- | --- | --- | --- | --- | --- | --- |
| | 1 | 2 | 3 | 4 | 5 | 6 |
| 7 | 8 | 9 | 10 | 11 | 12 | 13 |
| 14 | 15 | 16 | 17 | 18 | 19 | 20 |
| 21 | 22 | 23 | 24 | 25 | 26 | 27 |
| 28 | 29 | 30 | 31 | | | |
Calendar
Top posting users this week
december 2015 commit
- fixed closing editor
- fixed import models without default material error
- added new material preferences: frensel, roughness, specular.
- fixed preview window in imaterial editor.
- preparing: new anite nodes:
            - ambient sound play;
            - actor_move;
            - particle_plat;
            - actor_visiblity;
            - setGUIElementText;
            - deepOfField;           
             new anite curve timeline nodes:
            - camera_zoom;
            - rotate_relative;
            - sound_volime;
            - fade_in_out;           
- released base of AniTE Timeline editor.
- Ported skeletal animation
- [FAIL] added multithreading functions for IE processes. (for backgroung sound, map loading, or script processes)
XPN 9: (extreeme programming night):
- ready AniTE sound track, animation track. mover track!
XPN 10:
- added timeslider in anite.
- added import files of physics.
- added new physics primitives for IModel: Sphere, Capsule, Convex.
- added physics preferences in IWorld panel.
XPN 11:
- released motionBuilder, that ported from IE v1,5 (In editor creator of new skeletal animation)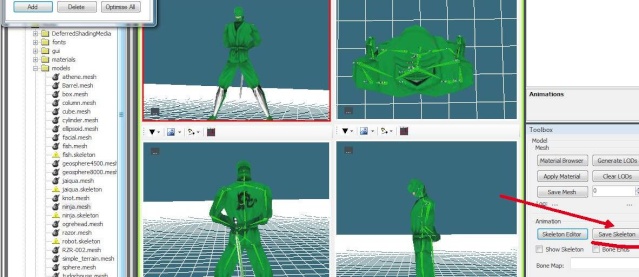 Large
- full source code minimisied to 75% of disc old space (now 4gb)
- added path highlighting for AniTE mover_track
Large
- (throwing down PhysX convex 256 faces only limitation

- added convex(with limitatios of generation bat throught file) and trianglemesh physics shapes for IModels.
XPN 12:
- Added local transforms for AniTE timeline. (IScene can be played in local space at asset position)
- added FOV preference for ICamera fctor.
- background game colour synchronised wit colour perspective in Editor.
- fixed docking of windows.
- added key-values inversion for reverse playing of anite timelines.
XPN 13:
- (in process timeline curve editor)

Update 2
Admin




Сообщения

: 1031


Experiance Points

: 2415


Reputation

: 2


Дата регистрации

: 2009-08-30



---
Permissions in this forum:
You
cannot
reply to topics in this forum